Project Description
IN THIS EPISODE WE TALKED ABOUT…
GSK is one of the largest chemical engineering companies in the world and has a base in Barnard Castle in North-East England. Speaking to Elspeth and Scott who both work in process roles for the company, it was interesting to learn more about the day-to-day of their jobs and how the systems, processes and the implementation of these things is as incredibly important as the research and development that goes into the medicines manufactured by the company.
As process engineers, despite sometimes working solo, an important part of their jobs requires them to collaborate with other departments for joined-up thinking and problem-solving so that processes run as smoothly as possible. They also discussed how rewarding it has been, particularly during the pandemic, to know they are part of something that's making a big difference to people.
We are a science-led global healthcare company with a special purpose: to help people do more, feel better, live longer. We have 3 global businesses that research, develop and manufacture innovative pharmaceutical medicines, vaccines and consumer healthcare products. Our goal is to be one of the world's most innovative, best performing and trusted healthcare companies.
MEET THE PEOPLE WE INTERVIEWED
FIVE DIFFERENT AREAS OF ENGINEERING
Chemical, Processing and Biotechnology
Automotive, Rail, Aerospace
Creative, Digital Technology
Civil, Structural, Construction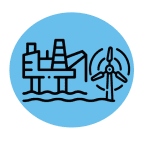 Subsea, Oil & Gas, Renewables, Energy