Project Description
IN THIS EPISODE WE TALKED ABOUT…
Virgin Money does a lot more than just wear hardhats and reflective jackets. They are a company that runs financial services, banks, credit cards and loans. They make the software that keeps money safe and accessible, therefore must be a very serious job.
We meet Ciara, Elaine and Jo and find out all about their roles and responsibilities to keep virgin money running securely and safely. Their skills go from accessing and developing the right technology to the creative office meetings needed to ensure things run smoothly.
Small changes can add up to make a big difference. Especially when it comes to your money. In our quest to make things better, we never stop looking at how every bit of banking works. We know there are lots of things we can change, however small – and together these changes will build a better banking experience for our customers.
MEET THE PEOPLE WE INTERVIEWED
FIVE DIFFERENT AREAS OF ENGINEERING
Chemical, Processing and Biotechnology
Automotive, Rail, Aerospace
Creative, Digital Technology
Civil, Structural, Construction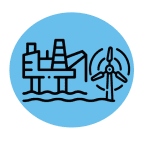 Subsea, Oil & Gas, Renewables, Energy