Project Description
IN THIS EPISODE WE TALKED ABOUT…
Based in several locations in the North East, DeepOcean provides Engineering solutions in the ocean! They provide services like Off-Shore Wind Turbines to Underwater cables.
We meet Shamen and Georgina who talk about their roles and responsibilities on a day to day basis, which leads from safety to analysis of soil and rocks to ensure things can be built within the beds in the oceans and seas.  We also have the aspiring school children ask some questions to our speakers.
DeepOcean is the leading, subsea services provider, servicing any equipment with specialised expertise. We serve the Oil and Gas and Offshore Power markets with Inspection, Maintenance and Repair, Subsea Construction, and Project Management and Engineering through Life-of-Field; from inception to decommissioning.
MEET THE PEOPLE WE INTERVIEWED
FIVE DIFFERENT AREAS OF ENGINEERING
Chemical, Processing and Biotechnology
Automotive, Rail, Aerospace
Creative, Digital Technology
Civil, Structural, Construction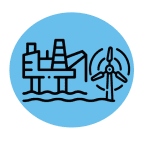 Subsea, Oil & Gas, Renewables, Energy