Project Description
IN THIS EPISODE WE TALKED ABOUT…
In this episode, we meet a huge international company in Siemens Energy. With many sites based in the North East, they specialise in energy, generating it, moving it and ensuring it is safe for use.
We meet Emma, Amy and Amber who talk all about their roles and responsibilities in the world of energy. From building substations to reading data, Siemens is a very interesting company to be a part of.
How can we meet the growing energy demand and protect our climate? We are committed to providing answers. We drive the transition to more sustainable, reliable, and affordable energy systems. With our innovative technologies, clear focus on the needs of our customers, and more than 91,000 dedicated employees, we energise society. That's our aim. That's our purpose. Let's make tomorrow different today.
MEET THE PEOPLE WE INTERVIEWED
WANT TO GET INVOLVED IN BRING IT ON 2021?
FIVE DIFFERENT AREAS OF ENGINEERING
Chemical, Processing and Biotechnology
Automotive, Rail, Aerospace
Creative, Digital Technology
Civil, Structural, Construction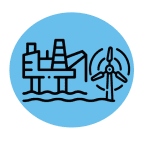 Subsea, Oil & Gas, Renewables, Energy