Project Description
IN THIS EPISODE, WE TALKED ABOUT…
Engineering is all about solving problems in the world, and for Siemens Gamesa, that is exactly what they do, tailored to the world of renewable energy. They create and manufacture wind turbines to create green energy. Not only that but they are constantly innovating and ensuring their turbines are the best they can be.
In this episode we meet Jonny and Eishar who talk all about how they got into a role at Siemens Gamesa and what their roles entail on a day to day basis, what projects they are currently working on and what skills they need to be successful.
Siemens Gamesa is a leading supplier of wind power solutions to customers all over the globe. A key player and innovative pioneer in the renewable energy sector, we have installed products and technology in more than 90 countries, with a total capacity base of over 99 GW.
MEET THE PEOPLE WE INTERVIEWED
WANT TO GET INVOLVED IN BRING IT ON 2021?
FIVE DIFFERENT AREAS OF ENGINEERING
Chemical, Processing and Biotechnology
Automotive, Rail, Aerospace
Creative, Digital Technology
Civil, Structural, Construction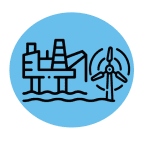 Subsea, Oil & Gas, Renewables, Energy